CCTV Surveillance System Installation Services Provider You Can Trust.
Cease Fire & Electrical Services LLP is one of the India's Leading Fire Fighting Companies
offering CCTV Surveillance System.
CCTV Surveillance System Installation Services
CCTV Surveillance System Installation Services Provider in Mumbai, India
Cease Fire & Electrical Services LLP's is one of the leading companies for providing the best CCTV Surveillance System Installation Services. We execute CCTV Surveillance System Installation for all types of building structure like schools / colleges, hospitals, residential complexes, commercial buildings, theatres, large shopping malls, and training institutes, etc. 
Nowadays, protecting your home or business is very important as it helps to protect people, and prevent costly theft or damage. Thinking ahead now will save you a lot of money and stress in the long run. CCTV system notifies whenever there is activity or movement on a certain camera at a set time. indicating that someone may be about or looking to break-in to your site. CCTV Surveillance System is extensively used for the surveillance of on-site activity, during and out of working hours acting as a deterrent to potential intruders.
CCTV Surveillance System Installation Services Quote
If you would like to discuss CCTV Surveillance System Installation Services
 please submit an enquiry form for your requirement or contact us at + 91-9920676281. Cease Fire & Electrical Services LLP can create detailed free
no-obligation quotes for your CCTV Surveillance System Installation Services requirement.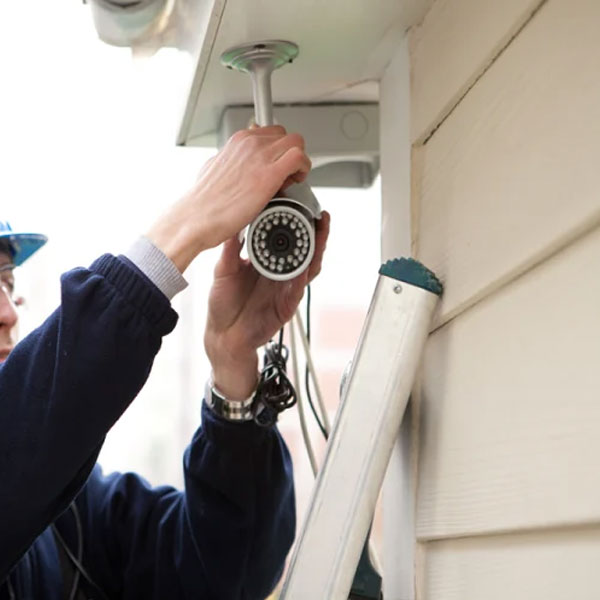 What is a CCTV Surveillance System?
CCTV (closed-circuit television) is a TV type system set-up in which screen recording of respective places is monitored, mainly for surveillance and security purposes. CCTV is a video system consisting of intentionally placed video cameras around a location for recording footage which is then transmitted to a display monitor(s) for real-time viewing as well as footage playback.
How does the CCTV Surveillance System work?
Working of CCTV Surveillance System:
Working of the CCTV depends upon the type of CCTV system you are installing and the components used, still the overall process is the same. It consists of a minimum one camera, monitor and recorder, a CCTV system can be scaled up or down depending on the size of area requiring surveillance. CCTV works by the camera as it takes a constant video recording that is then transmitted by cable or wirelessly (depending on the chosen system type) to the recording device and then on to the display monitor, which allows an individual to see the recording as video footage. Depending on the type of cameras used, they may also have the ability to zoom in and out and rotate 360 degrees.
What are the components of CCTV & Security Surveillance?
The various components of CCTV & Security Surveillance are:
Security cameras (analogue or digital)

Cables.

Video recorder (DVR or NVR)

Storage unit, generally a hard drive.

Display unit, such as a monitor, numbers as required.

Access control and general system management.
What are the benefits of CCTV surveillance systems?
CCTV surveillance system is intended to prevent and detect crime ensuring safety and prevent loss of property or theft. CCTV surveillance system has numerous benefits like: 
Monitor Scenarios and Activities.

Gather Evidence.

Maintain Records.

Peace of mind.

Arrive at the Right Decisions.

Deterrent and crime prevention.

Prosecution.

Low price, high quality.

Remote monitoring.

Reduced insurance premium.

Ideal in conjunction with intruder alarms.
Where can CCTV Surveillance System be installed?
CCTV Surveillance System or Closed-circuit television (CCTV) can be installed in places like Houses, retail stores, offices, hospitals, petrol stations, warehouses, and any other areas where it is required to remote monitor the locations and deterring and preventing theft.
What do we provide? - CCTV Surveillance System Installation
We provide our clients world-class fire services. Our Innovative 3 steps process for CCTV Surveillance System Installation are:
Planning and Strategy – Our highly experienced engineers build a system workflow with the finetune planning before starting the work.

Design: Our system design engineers design systems for optimum performance according to the client's needs.

Installation – Our skilled Installation engineers will install systems with best installation practices.

Testing and Commissioning – We always test the system methodically in iterative stages according to Indian Fire Safety Regulations and Guidelines.
Our strategy for CCTV Surveillance System Installation is rightly collaborative with our clients. The project development and implementation at Cease Fire & Electrical Services LLP is considered complete only when our esteemed client is thoroughly satisfied with the end result. We are happy to fully support and always refer you to new fire safety technologies which can deliver maximum effective results.
Why Choose us - Cease Fire & Electrical Services LLP?
Cease Fire & Electrical Services LLP is one of the premier and leading names in Burglar Alarm System Installations. We are not just one of the most experienced but also one of the most trusted in the fire safety industry. Hence, you can feel confident you are in safe hands with Cease Fire & Electrical Services LLP. We are the professional people delivering excellent systems appreciated by all of our client's and moreover some of the factors that have consistently fuelled our growth in the national as well as international market are:
Over 30 years combined experience.

Expert installation tailor-made for you.

Highly skilled fire alarm engineers.

Extremely focused research & development.

Capability of dealing with all kinds of fire.

Guaranteed Excellent Customer Service.

Competitive pricing with Customized solutions.

Third party accreditation.
International Quality Standards.
We have more than 30 years of experience in our industry, and over this time we've established and developed ways of working that are most suitable for every sector. Our expertise is guaranteed to benefit you, and the quality of our work can't be rivalled.

Cease Fire & Electrical Services LLP Market Area
At Cease Fire & Electrical Services LLP, we provide Novec Fire Suppression System Installations Services at these locations:
Andheri | Bandra | Bhayander | Borivali | CharniRd | Churchgate | Dadar | Dahisar | Prabhadevi | Goregaon | GrantRd | Jogeshwari | Kandivali | KharRd | LowerParel | Mahalakshmi | Mahim | Malad | MarineLines | MatungaRd | MiraRd | MumbaiCentral | Naigaon | NallaSopara | SantaCruz | VasaiRd | VileParle | Virar | RamMandir | Ambernath | Ambivili | Asangaon | Atgaon | Badlapur | Bhandup | Bhivpuri | Byculla | Chinchpokli | CurreyRoad | Diva | Dolavi | Dombivili | Ghatkopar | Kalwa | Kalyan | Kanjurmarg | Karjat | Kasara | Kelavi | Khadavli | Khardi | Khopoli | Kopar | Kurla | Lowjee | Masjid | Matunga | Mulund | Mumbai CST | Mumbra | Nahur | Neral | Palasdari | Parel | Sandurst Road | Shahad | Shelu | Sion | Thakurli | Thane | Titwala | Ulhasnagar | Vangani | Vasind | Vidhyavihar | Vikhroli | Vithalwadi | Airoli | Belapur CBD | Chembur | Chunabhatti | CottonGreen | DockyardRoad | Govandi | GTBNagar | Juinagar | Khandeshwar | KharRoad | Kharghar | Kings Circle | Mahim | Mankhurd | Mansarovar | MasjidBunder | MumbaiCST | Nerul | Panvel | Reay Road | SandhurstRoad | Sanpada | Santacruz | SeawoodDarave | Sewri | Tilaknagar | Vashi | WadalaRd | AntopHill | Ghansoli | Koparkhairne | Manasarovar | Rabale | Turbhe | Asalpha | SakiNaka | Marol | Chakala | Versova | Ahmednagar | Akola | Amravati | Aurangabad | Beed | Bhandara | Buldhana | Chandrapur | Dhule | Gadichiroli | Gondia | Hingoli | Jalgaon | Jalna | Kolhapur | Latur | Mumbai | Nagpur | Nanded | Nandurbar | Nashik | Osmanabad | Parbhani | Pune | Raigad | Ratnagiri | Sangli | Satara | Sindhudurg | Solapur | Wardha | Washim | Yavatmal and many more.
Note: Please note that the information on this document is for illustration purposes only as information may vary with individual products, their grade and applications industries or uses and therefore cannot be guaranteed as accurate. © Copyright 2022 © Cease Fire & Electrical Services LLP. All Rights Reserved (Terms of Use). Recreation of any materials from the site is strictly prohibited without permission. Cease Fire & Electrical Services LLP s' products are sold exclusively through Cease Fire & Electrical Services LLP s' website. Use Terms | Privacy. Please contact us to discuss precise product specifications and requirements and obtain advice on which products are required to suit your exact application needs
[email protected]