Commercial Concealed Sprinkler System Installation Services Provider You Can Trust.
Cease Fire & Electrical Services LLP is one of the India's Leading Fire Fighting Companies for the Design, Installation, and Maintenance of Concealed Sprinkler System.
Concealed Sprinkler System Installation Services
Concealed Sprinkler System Installation Services Provider in Mumbai, India
Keeping you, your people and property safe is our first priority at Cease Fire & Electrical Services LLP. Install Highly Advanced Concealed Sprinkler System for ensuring safety and security of your people and properties. Cease Fire & Electrical Services LLP's is one of the leading companies providing the best Concealed Sprinkler System Installation Services to many industries, offices, hotels, and corporate houses and Indian companies successfully. 
Concealed fire sprinkler systems are present in most buildings, as you might not even realise it. Concealed fire sprinkler systems are designed to have an understated, sleek, and contemporary look that fits in with all types of aesthetics. It consists of concealed sprinklers which have a modern white look and blend nicely with the decoration. 
With extensive and vast experience in Concealed Sprinkler System Installations, we provide innovative solutions for your offices, buildings, and properties, class leading and smart products. Cease Fire & Electrical Services LLP is an accredited leading Concealed Sprinkler company having pan India presence. We execute the Concealed Sprinkler system for all types of building structure like schools / colleges, hospitals, residential complexes, commercial buildings, theatres, large shopping malls, etc.
Concealed Sprinkler System Quote
Need Concealed Sprinkler System Installation Services?
Cease Fire & Electrical Services LLP can create detailed free, no-obligation quotes for your fire service requirement. We will assess the needs of your facility to design a fire fighting system that is right for you.
 Concealed Sprinkler System pricing depends on the size and complexity of your project. Contact us today!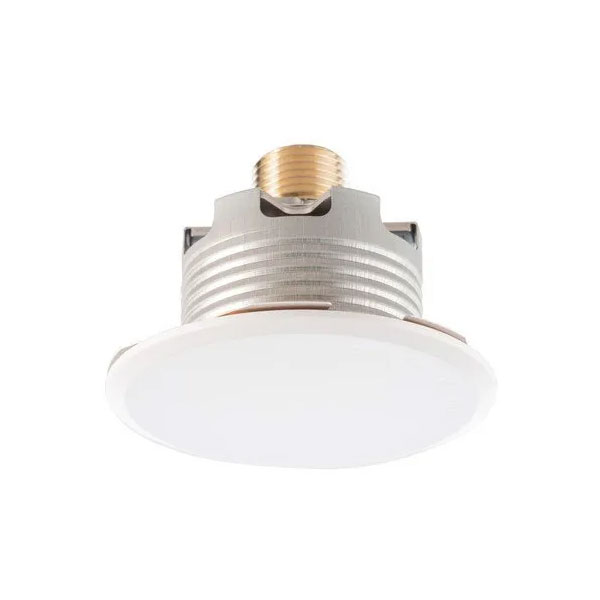 What is a Concealed Sprinkler System?
Concealed Sprinkler System consists of concealed sprinkler which is a thermosensitive glass-bulb spray sprinkler functionally designed for installation on concealed pipe systems where the appearance of a smooth ceiling is preferred. Concealed fire sprinkler heads are a popular, more appealing option simply because they make no visible conflicts to your ceiling. The glass bulb within the sprinkler is enclosed, but it still pops open when heat from a fire is detected, releasing water to extinguish the fire at the source keeping your fire safety standards high. Concealed Sprinkler System is the superlative choice for guaranteeing the safety of your property's people from the hazards of fire. They react rapidly and can save your property from fire and water damage.
How Does the Concealed Sprinkler System Work?
Working of Concealed Sprinkler System:
A Concealed Sprinkler System is an active and dynamic fire-fighting system, normally comprising concealed sprinklers connected with a water supply system delivering adequate pressure and flow rate to a water distribution circulating via a piping system. At the first sign of a fire, dispersing the suitable amount of water. The Concealed Sprinkler System consists of a two-stage device which means that the flat cover plate drops away before the heat-sensitive bulb is triggered. The cover plates drop away at an initial stage of the fire as they are secured by 3 small zones of solder designed to melt at a predetermined level of heat. The second stage is a heat-sensitive trigger for which the sprinkler itself will then activate and release water spray to douse the fire.
In the incident of a fire, where heat of over 56°C is sensed, concealed sprinkler heads work in a different manner as the cover plate normally soldered to the support cup in three positions, splits from the sprinkler assembly, revealing the mechanics. The deflector now lowers to its operational position, supported by the arms. In the event that the temperature rises more, the concealed fire sprinkler heads are now prepared to activate.
What are the components of the Concealed Sprinkler System?
There are quite a few components to a concealed sprinkler system are:
Fire Fighting Pumps & Accessories.

Piping

Control Panels

Concealed Sprinklers

Sprinkler Alarm Valve

Wiring & Instrumentations
Different concealed sprinkler systems can also comprise two-way communications, fire doors, remote display and control panels, and elevator recall capabilities which can be combined with other several security systems or smart technologies.
Will the reaction time of a fire sprinkler system be quick enough to extinguish a fire completely?
Yes. Because fire sprinklers react so swiftly, they can powerfully decrease the heat, flames and smoke formed from a fire. This increases your chance of survival and protects your property. Overall, a fire can engulf a normal house in about less than five minutes. Even if the system does not totally extinguish the fire it will help prevent it from spreading throughout the home.
What are the advantages of the Concealed Sprinkler System Installation System?
Concealed Fire Sprinklers are slim, and modern looking in design. With a contemporary white finish, when installed on a white ceiling they become part of the decoration. Concealed sprinkler heads are popular in homes, offices, residentials flats, and residential care homes due to their appealing and aesthetic nature. Like all fire sprinkler systems, they work to extinguish fires quickly and effectively, keeping fire and water damage to an absolute minimum. Also, it contains fire within one area of a room, there is very little smoke and water damage.
Where can the Concealed Sprinkler System be installed?
Concealed Sprinkler System can be installed in numerous places like:
High rise office buildings

Hospitals

Paper mills

Retail outlets

Chemical plants

Government facilities

Metal buildings

Educational facilities

Automotive manufacturing plants

Nursing homes

Aircraft hangers

Tire manufacturers
What do we provide? - Concealed Sprinkler System Installation
We provide our clients world-class fire services. Our Innovative 3 steps process for Concealed Sprinkler System installation are:
Planning and Strategy – Our highly experienced engineers build a system workflow with the finetune planning before starting the work.

Design: Our system design engineers design systems for optimum performance according to the client's needs.

Installation – Our skilled Installation engineers will install systems with best installation practices.

Testing and Commissioning – We always test the system methodically in iterative stages according to Indian Fire Safety Regulations and Guidelines.
Our strategy for Concealed Sprinkler System installation is rightly collaborative with our clients. The project development and implementation at Cease Fire & Electrical Services LLP is considered complete only when our esteemed client is thoroughly satisfied with the end result. We are happy to fully support and always refer you to new fire safety technologies which can deliver maximum effective results.
Why Choose us - Cease Fire & Electrical Services LLP?
Cease Fire & Electrical Services LLP is one of the premier and leading names in Carbon Dioxide (CO2) Fire Suppression System installations. We are not just one of the most experienced but also one of the most trusted in the fire safety industry. Hence, you can feel confident you are in safe hands with Cease Fire & Electrical Services LLP. We are the professional people delivering excellent systems appreciated by all of our clients and moreover some of the factors that have consistently fuelled our growth in the national as well as international market are:
Over 30 years combined experience.

Expert installation tailor-made for you.

Highly skilled fire alarm engineers.

Extremely focused research & development.

Capability of dealing with all kinds of fire.

Guaranteed Excellent Customer Service.

Competitive pricing with Customized solutions.

Third party accreditation.

International Quality Standards.
We have more than 30 years of experience in our industry, and over this time we've established and developed ways of working that are most suitable for every sector. Our expertise is guaranteed to benefit you, and the quality of our work can't be rivalled.

Cease Fire & Electrical Services LLP Market Area
At Cease Fire & Electrical Services LLP, we provide Novec Fire Suppression System Installations Services at these locations:
Andheri | Bandra | Bhayander | Borivali | CharniRd | Churchgate | Dadar | Dahisar | Prabhadevi | Goregaon | GrantRd | Jogeshwari | Kandivali | KharRd | LowerParel | Mahalakshmi | Mahim | Malad | MarineLines | MatungaRd | MiraRd | MumbaiCentral | Naigaon | NallaSopara | SantaCruz | VasaiRd | VileParle | Virar | RamMandir | Ambernath | Ambivili | Asangaon | Atgaon | Badlapur | Bhandup | Bhivpuri | Byculla | Chinchpokli | CurreyRoad | Diva | Dolavi | Dombivili | Ghatkopar | Kalwa | Kalyan | Kanjurmarg | Karjat | Kasara | Kelavi | Khadavli | Khardi | Khopoli | Kopar | Kurla | Lowjee | Masjid | Matunga | Mulund | Mumbai CST | Mumbra | Nahur | Neral | Palasdari | Parel | Sandurst Road | Shahad | Shelu | Sion | Thakurli | Thane | Titwala | Ulhasnagar | Vangani | Vasind | Vidhyavihar | Vikhroli | Vithalwadi | Airoli | Belapur CBD | Chembur | Chunabhatti | CottonGreen | DockyardRoad | Govandi | GTBNagar | Juinagar | Khandeshwar | KharRoad | Kharghar | Kings Circle | Mahim | Mankhurd | Mansarovar | MasjidBunder | MumbaiCST | Nerul | Panvel | Reay Road | SandhurstRoad | Sanpada | Santacruz | SeawoodDarave | Sewri | Tilaknagar | Vashi | WadalaRd | AntopHill | Ghansoli | Koparkhairne | Manasarovar | Rabale | Turbhe | Asalpha | SakiNaka | Marol | Chakala | Versova | Ahmednagar | Akola | Amravati | Aurangabad | Beed | Bhandara | Buldhana | Chandrapur | Dhule | Gadichiroli | Gondia | Hingoli | Jalgaon | Jalna | Kolhapur | Latur | Mumbai | Nagpur | Nanded | Nandurbar | Nashik | Osmanabad | Parbhani | Pune | Raigad | Ratnagiri | Sangli | Satara | Sindhudurg | Solapur | Wardha | Washim | Yavatmal and many more.
Note: Please note that the information on this document is for illustration purposes only as information may vary with individual products, their grade and applications industries or uses and therefore cannot be guaranteed as accurate. © Copyright 2022 © Cease Fire & Electrical Services LLP. All Rights Reserved (Terms of Use). Recreation of any materials from the site is strictly prohibited without permission. Cease Fire & Electrical Services LLP s' products are sold exclusively through Cease Fire & Electrical Services LLP s' website. Use Terms | Privacy. Please contact us to discuss precise product specifications and requirements and obtain advice on which products are required to suit your exact application needs
[email protected]