Door Access System Installation Services Provider You Can Trust.
Cease Fire & Electrical Services LLP is one of the India's Leading Fire Fighting Companies
offering Door Access System.
Door Access System Installation Services
Door Access System Installation Services Provider in Mumbai, India
Cease Fire & Electrical Services LLP's is one of the leading companies for providing the best Door Access System Installation Services. We execute Door Access System Installation for all types of building structure like residential complexes, commercial buildings, shopping malls, godowns, warehouses, jewellery shops, etc. 
At Cease Fire & Electrical Services LLP, we provide Door Access solutions critical to protecting your property and other assets. A Door Access System is your first step in protecting your people, property, and assets, by restricting door, gate, or other entry point access to a property, building or room to authorized persons. Door Access System systems provide you the ability to lock and unlock doors. With a door access security system, you know accurately who arrives in your building or room, when they enter and what door they use. Numerous companies use technology cards for employee tags to track and authorize access to restricted areas.
Door Access System Installation Services Quote
If you would like to discuss Door Access System Installation Services
please submit an enquiry form for your requirement or contact us at + 91-9920676281. Cease Fire & Electrical Services LLP can create detailed free
no-obligation quotes for your Door Access System Installation Services requirement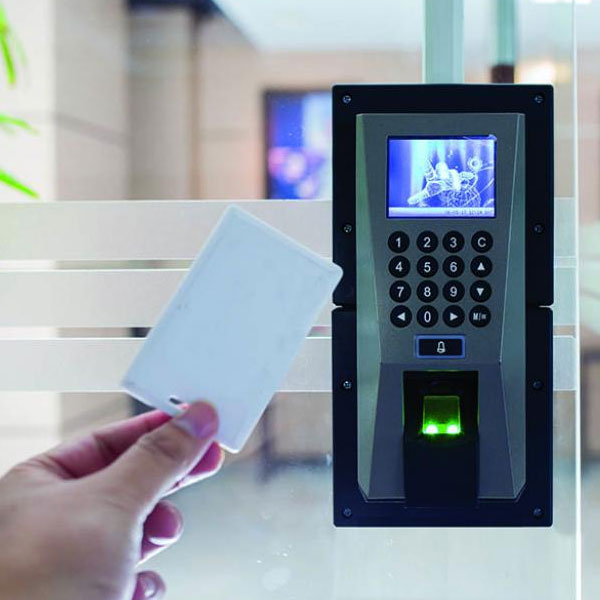 What is a Door Access System?
The Door Access System is an electronic access system which uses electronic keys called as tags to open door locks. The tag reader is situated next to a door or entrance. The tag carried by the users or employees when placed in the proximity of a reader connects with that tag reader utilising encoded radio waves.
What are the key components of Door Access System?
The key components of the Door Access System are:
Access Cards or tags

Card Readers

Access Control Keypads

Electric Lock Hardware

Access Controllers

Access control panels
How does the Door Access System work?
Working of Door Access System:
The key elements of the system are the tag, the reader, the controller, and the lock.

Each user has a tag authorised on particular doors at definite times by the system administrator.

Each tag has a unique number stored on an electronic chip encased in plastic. 

There is no requirement for any contact between the tag and the reader. 

Once a tag is recognised by the reader a signal is transmitted to open an electrically managed door lock.

The tag reader controlled both in and outside of the door. 

The tag is presented in the presence of the reader and, if authorised at that time on that particular door, the door lock will be opened.

The controller is the core of the system which stores all the authorisation information, which it receives from a PC. 

When it receives a Tag ID from a reader, it releases a door lock if that Tag is authorised at that door.

The Lock can be any electro-mechanical locking device which is fail safe or fail secure.
What are the benefits of the Door Access System?
The benefits of Door Access System as follows: 
Easily Accessible: allows the users to access different areas after being authorised or permitted to do so.

Eliminating the traditional methods: eliminates the need for keys and other traditional methods to access any place. The doors can only be opened through biometric devices or other sensor devices without any physical means.

Protection against unwanted visitors: prevention of unauthorised or non-identified people, as they cannot enter the premises without permission.

Employee freedom: different time shifts employees can work and enter the building premises at their respective times. By enabling it, one can offer flexible schedules for employees.

Protection against data breaches: keep your information safe by restricting access to IT rooms and individual computers or networks, so only assigned persons can access them.

Monitoring the entrance and exit of the building: keep track of the entry and exit of a building/room. Also be used for workers attendance, fire safety management, and tracking of staff on site. 

Reduced theft risk: only the trusted and the permitted individuals can access the equipment and information.

Economical access solution: no need to keep extra security guards for identification and permission as access control devices can accurately and securely verify a person's identity.
Where can the Door Access System be installed?
Door Access System can be installed in numerous places like:
Hotels

Offices 

IT Parks

Commercial Places

Clubs & Resorts

Municipal Corporations

Building Clusters in lane

APMC Markets

Institutional Campuses

Hospitals

Large Housing Complexes
What do we provide? - Door Access System Installation
We provide our clients world-class fire services. Our Innovative 3 steps process for Door Access System Installation are:
Planning and Strategy – Our highly experienced engineers build a system workflow with the finetune planning before starting the work.

Design: Our system design engineers design systems for optimum performance according to the client's needs.

Installation – Our skilled Installation engineers will install systems with best installation practices.

Testing and Commissioning – We always test the system methodically in iterative stages according to Indian Fire Safety Regulations and Guidelines.
Our strategy for Door Access System Installation is rightly collaborative with our clients. The project development and implementation at Cease Fire & Electrical Services LLP is considered complete only when our esteemed client is thoroughly satisfied with the end result. We are happy to fully support and always refer you to new fire safety technologies which can deliver maximum effective results.
Why Choose us - Cease Fire & Electrical Services LLP?
Cease Fire & Electrical Services LLP is one of the premier and leading names in Burglar Alarm System Installations. We are not just one of the most experienced but also one of the most trusted in the fire safety industry. Hence, you can feel confident you are in safe hands with Cease Fire & Electrical Services LLP. We are the professional people delivering excellent systems appreciated by all of our client's and moreover some of the factors that have consistently fuelled our growth in the national as well as international market are:
Over 30 years combined experience.

Expert installation tailor-made for you.

Highly skilled fire alarm engineers.

Extremely focused research & development.

Capability of dealing with all kinds of fire.

Guaranteed Excellent Customer Service.

Competitive pricing with Customized solutions.

Third party accreditation.
International Quality Standards.
We have more than 30 years of experience in our industry, and over this time we've established and developed ways of working that are most suitable for every sector. Our expertise is guaranteed to benefit you, and the quality of our work can't be rivalled.

Cease Fire & Electrical Services LLP Market Area
At Cease Fire & Electrical Services LLP, we provide Novec Fire Suppression System Installations Services at these locations:
Andheri | Bandra | Bhayander | Borivali | CharniRd | Churchgate | Dadar | Dahisar | Prabhadevi | Goregaon | GrantRd | Jogeshwari | Kandivali | KharRd | LowerParel | Mahalakshmi | Mahim | Malad | MarineLines | MatungaRd | MiraRd | MumbaiCentral | Naigaon | NallaSopara | SantaCruz | VasaiRd | VileParle | Virar | RamMandir | Ambernath | Ambivili | Asangaon | Atgaon | Badlapur | Bhandup | Bhivpuri | Byculla | Chinchpokli | CurreyRoad | Diva | Dolavi | Dombivili | Ghatkopar | Kalwa | Kalyan | Kanjurmarg | Karjat | Kasara | Kelavi | Khadavli | Khardi | Khopoli | Kopar | Kurla | Lowjee | Masjid | Matunga | Mulund | Mumbai CST | Mumbra | Nahur | Neral | Palasdari | Parel | Sandurst Road | Shahad | Shelu | Sion | Thakurli | Thane | Titwala | Ulhasnagar | Vangani | Vasind | Vidhyavihar | Vikhroli | Vithalwadi | Airoli | Belapur CBD | Chembur | Chunabhatti | CottonGreen | DockyardRoad | Govandi | GTBNagar | Juinagar | Khandeshwar | KharRoad | Kharghar | Kings Circle | Mahim | Mankhurd | Mansarovar | MasjidBunder | MumbaiCST | Nerul | Panvel | Reay Road | SandhurstRoad | Sanpada | Santacruz | SeawoodDarave | Sewri | Tilaknagar | Vashi | WadalaRd | AntopHill | Ghansoli | Koparkhairne | Manasarovar | Rabale | Turbhe | Asalpha | SakiNaka | Marol | Chakala | Versova | Ahmednagar | Akola | Amravati | Aurangabad | Beed | Bhandara | Buldhana | Chandrapur | Dhule | Gadichiroli | Gondia | Hingoli | Jalgaon | Jalna | Kolhapur | Latur | Mumbai | Nagpur | Nanded | Nandurbar | Nashik | Osmanabad | Parbhani | Pune | Raigad | Ratnagiri | Sangli | Satara | Sindhudurg | Solapur | Wardha | Washim | Yavatmal and many more.
Note: Please note that the information on this document is for illustration purposes only as information may vary with individual products, their grade and applications industries or uses and therefore cannot be guaranteed as accurate. © Copyright 2022 © Cease Fire & Electrical Services LLP. All Rights Reserved (Terms of Use). Recreation of any materials from the site is strictly prohibited without permission. Cease Fire & Electrical Services LLP s' products are sold exclusively through Cease Fire & Electrical Services LLP s' website. Use Terms | Privacy. Please contact us to discuss precise product specifications and requirements and obtain advice on which products are required to suit your exact application needs
[email protected]