Fire Alarm Design Services Provider You Can Trust.
Cease Fire & Electrical Services LLP is one of the India's Leading Fire Fighting Companies
offering Fire Alarm System Inspection Services.
Fire Alarm System Inspection Services
Fire Alarm System Inspection Services Provider in Mumbai, India
Cease Fire & Electrical Services LLP's is one of the leading companies for providing the best Fire Alarm System Inspection Services to many industries, offices, hotels, and corporate houses and Indian companies successfully. Cease Fire & Electrical Services LLP is an accredited leading Fire Alarm System Inspection Services company having pan India presence. We execute fire alarm system inspection solutions for all types of building structure like schools / colleges, hospitals, residential complexes, commercial buildings, theatres, large shopping malls, and training institutes, etc. 
Cease Fire & Electrical Services LLP executes commercial fire alarm inspection and testing with licensed and experienced technicians to ensure all systems, parts, and components are working correctly. Regular fire alarm inspections ensure that systems are functional and will determine if a situation exists that would prevent the alarm from operating correctly
If you have a fire alarm system, you need to know that it is ready to respond in the incident of any emergency. The efficacy of your system is very crucial. Cease Fire & Electrical Services LLP provide responsive and dependable fire alarm maintenance services to ensure your equipment and systems are working properly.
Our maintenance team is available 24 hours a day. Fire protection service, maintenance, and repair to keep your systems in operating condition. Regular fire protection maintenance is crucial for you to be confident that your system will function when it is needed. When you will need emergency repair, we are available instantaneously. Our experts are experienced in the installation of fire protection systems. 
Cease Fire & Electrical Services LLP offer the following services:
Service your existing fire alarm system.

Monitor the system for alarms.

Check with any system faults that may occur.
Fire Alarm System Inspection Services Quote
If you would like to discuss Fire Alarm System Inspection Services
please submit an enquiry form for your requirement or contact us at + 91-9920676281. Cease Fire & Electrical Services LLP can create detailed free
no-obligation quotes for your Fire Alarm System Inspection Services requirement.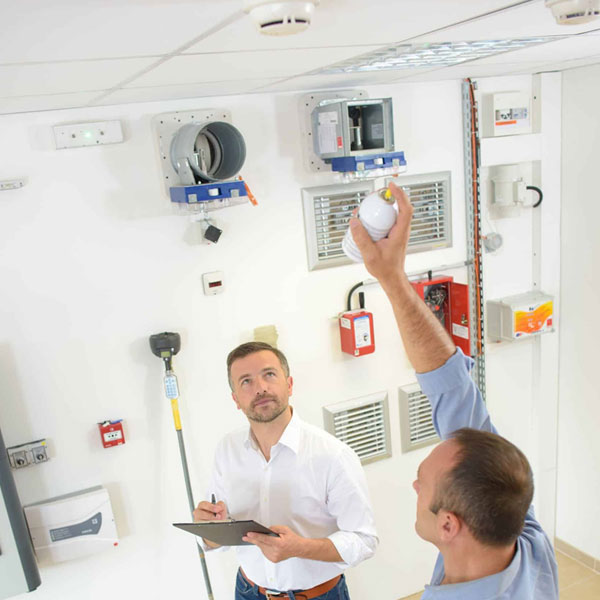 Why are regular Fire Alarm Inspections so important?
Commercial fire alarm systems are designed to detect and inform inhabitants of several life-threatening dangers in addition to fire, such as smoke, gas leakage, etc. Regular fire alarm inspection is the only way to identify that your fire alarm system will protect you when needed. Several fires are preventable, some are caused by human error or negligence. Something as trivial as repairing a ground fault could lead to greater issues and cause a fire alarm system to break down. Regular inspections are key to getting the most out of the investment of a fire and life safety system and are also compulsory by fire safety code regulations.
What are the benefits of Regular Fire Alarm Inspections?
The benefits Regular Fire Alarm Inspections are:
Obvious benefit is it ensures your system will perform as expected when needed. 

Provide a safer environment that saves lives. 

Avoidance of high fines for noncompliance to fire and life safety codes.

Helps to make sure your system is in ready position to make use of at any given time.

Helps in getting insurance approvals faster for property insurance coverage.

Minimizes the amount of property damage with quick response to fire.

Promotes a safer environment for all occupants and saves lives with early warning.

Supports companies to maintain compliance to all fire safety regulations including all local, city and state safety codes.
What type of services are included in Fire Alarm Inspections Services?
Inspections services offered for following Fire Alarm System and Fire Fighting Systems:
Dry pipe sprinkler

Wet pipe sprinkler

Antifreeze sprinkler

Pre-action sprinkler

Deluge sprinkler

Fire pump testing

Clean Agent Systems

Water Spray systems

Corrosion evaluation

Foam water spray

Foam water sprinkler

Fire Hydrant Inspection

Water storage tank inspection

Standpipe system testing

Fire Hose Inspection

Backflow prevention testing

Low and High expansion Foam

Building and fire alarm testing

Kitchen hood system inspections

Fire extinguisher inspection and testing

Special Hazard Systems

Water mist systems

Emergency/Exit Light Inspection
We have more than 30 years of experience in our industry, and over this time we've established and developed ways of working that are most suitable for every sector. Our expertise is guaranteed to benefit you, and the quality of our work can't be rivalled.

Cease Fire & Electrical Services LLP Market Area
At Cease Fire & Electrical Services LLP, we provide Novec Fire Suppression System Installations Services at these locations:
Andheri | Bandra | Bhayander | Borivali | CharniRd | Churchgate | Dadar | Dahisar | Prabhadevi | Goregaon | GrantRd | Jogeshwari | Kandivali | KharRd | LowerParel | Mahalakshmi | Mahim | Malad | MarineLines | MatungaRd | MiraRd | MumbaiCentral | Naigaon | NallaSopara | SantaCruz | VasaiRd | VileParle | Virar | RamMandir | Ambernath | Ambivili | Asangaon | Atgaon | Badlapur | Bhandup | Bhivpuri | Byculla | Chinchpokli | CurreyRoad | Diva | Dolavi | Dombivili | Ghatkopar | Kalwa | Kalyan | Kanjurmarg | Karjat | Kasara | Kelavi | Khadavli | Khardi | Khopoli | Kopar | Kurla | Lowjee | Masjid | Matunga | Mulund | Mumbai CST | Mumbra | Nahur | Neral | Palasdari | Parel | Sandurst Road | Shahad | Shelu | Sion | Thakurli | Thane | Titwala | Ulhasnagar | Vangani | Vasind | Vidhyavihar | Vikhroli | Vithalwadi | Airoli | Belapur CBD | Chembur | Chunabhatti | CottonGreen | DockyardRoad | Govandi | GTBNagar | Juinagar | Khandeshwar | KharRoad | Kharghar | Kings Circle | Mahim | Mankhurd | Mansarovar | MasjidBunder | MumbaiCST | Nerul | Panvel | Reay Road | SandhurstRoad | Sanpada | Santacruz | SeawoodDarave | Sewri | Tilaknagar | Vashi | WadalaRd | AntopHill | Ghansoli | Koparkhairne | Manasarovar | Rabale | Turbhe | Asalpha | SakiNaka | Marol | Chakala | Versova | Ahmednagar | Akola | Amravati | Aurangabad | Beed | Bhandara | Buldhana | Chandrapur | Dhule | Gadichiroli | Gondia | Hingoli | Jalgaon | Jalna | Kolhapur | Latur | Mumbai | Nagpur | Nanded | Nandurbar | Nashik | Osmanabad | Parbhani | Pune | Raigad | Ratnagiri | Sangli | Satara | Sindhudurg | Solapur | Wardha | Washim | Yavatmal and many more.
Note: Please note that the information on this document is for illustration purposes only as information may vary with individual products, their grade and applications industries or uses and therefore cannot be guaranteed as accurate. © Copyright 2022 © Cease Fire & Electrical Services LLP. All Rights Reserved (Terms of Use). Recreation of any materials from the site is strictly prohibited without permission. Cease Fire & Electrical Services LLP s' products are sold exclusively through Cease Fire & Electrical Services LLP s' website. Use Terms | Privacy. Please contact us to discuss precise product specifications and requirements and obtain advice on which products are required to suit your exact application needs
[email protected]