Fire Alarm Design Services Provider You Can Trust.
Cease Fire & Electrical Services LLP is one of the India's Leading Fire Fighting Companies offering Fire Alarm System Repairing Services.
Fire Alarm System Repairing Services
Fire Alarm System Repairing Services Provider in Mumbai, India
Cease Fire & Electrical Services LLP's is one of the leading companies for providing the best Fire Alarm System Repairing Services to many industries, offices, hotels, and corporate houses and Indian companies successfully. Cease Fire & Electrical Services LLP is an accredited leading Fire Alarm System Repairing Services company having pan India presence. We execute fire alarm system repairing solutions for all types of building structure like schools / colleges, hospitals, residential complexes, commercial buildings, theatres, large shopping malls, and training institutes, etc. 
Cease Fire & Electrical Services LLP will repair your fire alarm system, no matter what state or condition your system is in. Our team of highly skilled, certified, and experienced fire alarm technicians can handle any issues your fire alarm system may be having. We will give you a detailed report and repair estimate presenting you how much work your system will need, as well as give you the best options to repair your system, all as swiftly as possible. Do not put your building's inhabitants at risk any longer – get a transparent, trouble-free operation with Cease Fire & Electrical Services LLP today!
Whether you notice an issue with your fire alarm system during a routine check or discover an emergency repair is necessary, we can repair and service every component of your fire alarm system, including:
System devices

Control panels

Pull stations

Notification appliances
Fire Alarm System Repairing Services Quote
If you would like to discuss Fire Alarm System Repairing Services
please submit an enquiry form for your requirement or contact us at + 91-9920676281. Cease Fire & Electrical Services LLP can create detailed free
no-obligation quotes for your Fire Alarm System Repairing Services requirement.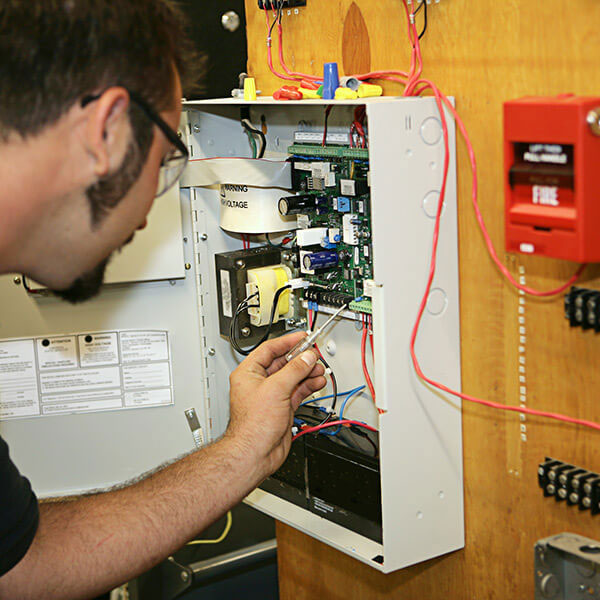 Why is fire alarm on time repairing is crucial?
Your fire alarm system is your foremost answer for alerting the people in your place or building to a fire or emergency. Therefore, keeping your fire alarm system in appropriate working order is vital for keeping your employees safe at all times.
Why is it important to promptly repair a fire alarm system?
Testing, inspecting, and maintaining, and repairing your fire alarm system helps save lives and prevent disastrous property damage. We specializes in all types of fire alarm system repairs to ensure your equipment operates correctly and meets fire code regulations. Taking proactive upkeep of your commercial fire alarm system guarantees it will alert you if a fire breaks out at your facility.
What are the signs for repairing a fire alarm system?
The signs your fire alarm system needs repair when you have:
Damaged Cables

Blown Fuses

Defective Batteries

Frequent False Alarms

Broken Annunciator Panels

Device Compatibility Problems

Alarm Does Not Receive Power

Power Surge Damage

Improperly Installed Systems

Improperly Programmed Control Panels
We have more than 30 years of experience in our industry, and over this time we've established and developed ways of working that are most suitable for every sector. Our expertise is guaranteed to benefit you, and the quality of our work can't be rivalled.

Cease Fire & Electrical Services LLP Market Area
At Cease Fire & Electrical Services LLP, we provide Novec Fire Suppression System Installations Services at these locations:
Andheri | Bandra | Bhayander | Borivali | CharniRd | Churchgate | Dadar | Dahisar | Prabhadevi | Goregaon | GrantRd | Jogeshwari | Kandivali | KharRd | LowerParel | Mahalakshmi | Mahim | Malad | MarineLines | MatungaRd | MiraRd | MumbaiCentral | Naigaon | NallaSopara | SantaCruz | VasaiRd | VileParle | Virar | RamMandir | Ambernath | Ambivili | Asangaon | Atgaon | Badlapur | Bhandup | Bhivpuri | Byculla | Chinchpokli | CurreyRoad | Diva | Dolavi | Dombivili | Ghatkopar | Kalwa | Kalyan | Kanjurmarg | Karjat | Kasara | Kelavi | Khadavli | Khardi | Khopoli | Kopar | Kurla | Lowjee | Masjid | Matunga | Mulund | Mumbai CST | Mumbra | Nahur | Neral | Palasdari | Parel | Sandurst Road | Shahad | Shelu | Sion | Thakurli | Thane | Titwala | Ulhasnagar | Vangani | Vasind | Vidhyavihar | Vikhroli | Vithalwadi | Airoli | Belapur CBD | Chembur | Chunabhatti | CottonGreen | DockyardRoad | Govandi | GTBNagar | Juinagar | Khandeshwar | KharRoad | Kharghar | Kings Circle | Mahim | Mankhurd | Mansarovar | MasjidBunder | MumbaiCST | Nerul | Panvel | Reay Road | SandhurstRoad | Sanpada | Santacruz | SeawoodDarave | Sewri | Tilaknagar | Vashi | WadalaRd | AntopHill | Ghansoli | Koparkhairne | Manasarovar | Rabale | Turbhe | Asalpha | SakiNaka | Marol | Chakala | Versova | Ahmednagar | Akola | Amravati | Aurangabad | Beed | Bhandara | Buldhana | Chandrapur | Dhule | Gadichiroli | Gondia | Hingoli | Jalgaon | Jalna | Kolhapur | Latur | Mumbai | Nagpur | Nanded | Nandurbar | Nashik | Osmanabad | Parbhani | Pune | Raigad | Ratnagiri | Sangli | Satara | Sindhudurg | Solapur | Wardha | Washim | Yavatmal and many more.
Note: Please note that the information on this document is for illustration purposes only as information may vary with individual products, their grade and applications industries or uses and therefore cannot be guaranteed as accurate. © Copyright 2022 © Cease Fire & Electrical Services LLP. All Rights Reserved (Terms of Use). Recreation of any materials from the site is strictly prohibited without permission. Cease Fire & Electrical Services LLP s' products are sold exclusively through Cease Fire & Electrical Services LLP s' website. Use Terms | Privacy. Please contact us to discuss precise product specifications and requirements and obtain advice on which products are required to suit your exact application needs
[email protected]