Commercial FM 200 Fire Suppression System Installation Services Provider You Can Trust.
Cease Fire & Electrical Services LLP is one of the India's Leading Fire Fighting Companies
for the Design, Installation, and Maintenance of FM 200 Fire Suppression System.
FM 200 Fire Suppression System Installation Services
FM 200 Fire Suppression System Installation Services Provider in Mumbai, India
Keeping you, your people and property safe is our first priority at Cease Fire & Electrical Services LLP. Install Highly Advanced FM 200 Fire Suppression System for ensuring safety and security of your people and properties. Cease Fire & Electrical Services LLP's is one of the leading companies providing the best FM 200 Fire Suppression System Installation Services to many industries, offices, hotels, and corporate houses and Indian companies successfully.

With extensive and vast experience in FM 200 Fire Suppression System Installations, we provide innovative solutions for your offices, buildings, and properties, class leading and smart products. Cease Fire & Electrical Services LLP is an accredited leading FM 200 Fire Suppression company having pan India presence. We execute FM 200 Fire Suppression systems for all types of building structure like schools / colleges, hospitals, residential complexes, commercial buildings, theatres, large shopping malls, etc.
Fire Suppression System Quote
Need FM 200 Fire Suppression System Installation Services?
Cease Fire & Electrical Services LLP can create detailed free, no-obligation quotes for your fire service requirement. We will assess the needs of your facility to design a fire fighting system that is right for you.
Fire Suppression System pricing depends on the size and complexity of your project. Contact us today!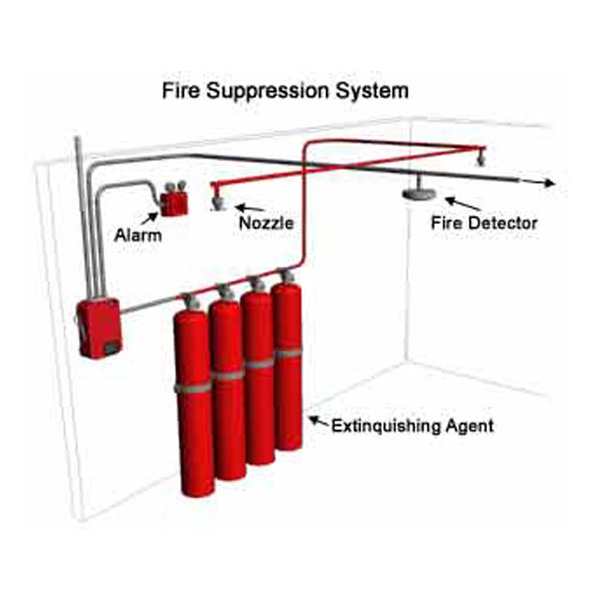 What is the FM200 Fire Suppression System?
An FM200 fire suppression system eliminates heat from a fire so that additional combustion cannot take place while also preventing fire from starting up again. The FM200 fire suppression agent does not decrease oxygen levels to where people in the area would be in any danger.
What is FM-200™ Clean Agent?
FM-200™, also normally known as HFC-227ea, is a clean agent fire suppressant for Class A, B, and C fires and meets NFPA Standard 2001 Clean Agent Fire Extinguishing Systems. Clean agents are quick and effective in suppressing fires and are normally safe for people occupied spaces leaving no residue.
What is the chemical name for FM-200™ Gas?
The chemical name for FM-200™ gas is 1,1,1,2,3,3,3-Heptafluoropropane and it is also known as hydrofluorocarbon (HFC) 227ea and is manufactured by Chemours under the trademark FM-200™. The FM-200™ gas is a colourless, compressed liquefied gas utilised to extinguish fires. FM-200™ fire suppression system is pressurized with nitrogen which upon activation, FM-200™ releases as a gas to suppress the fire.
How does FM 200 Fire Suppression System work?
FM 200 Fire Suppression System is designed precisely to protect delicate and sensitive electronic equipment. It suppresses fire by disrupting the fire triangle. The fire triangle consists of heat, oxygen, and a fuel source, and by eliminating one of these factors, the fire is extinguished. FM-200 eliminates the heat or free radicals, which limits the fire triangle's chemical reaction to extinguish the fire.
FM 200 Fire Suppression System is one of the quickest and most efficient suppression systems available extinguishing fire in 10 seconds or less which results in less harm, damage, lower repair costs, and shorter downtime. The FM-200 gas is stored in cylinders as a liquid and pressurization is attained using nitrogen and inert gases. When discharged, the liquid flows through a grid of piping into the secured area where it vaporizes. It can achieve fire extinguishing concentrations in 10 seconds or less. FM 200 Fire Suppression System deploys efficiently and quickly leaving no particulate, oily residue, or water behind.
What are the advantages of the FM 200 Fire Suppression System?
Advantages of FM 200 Fire Suppression System are:
Has clean agents hence, safe around people.

Acts quickly on electrical, flammable liquid fire supressing it.

Occupy less space on given infrastructure comparatively.

Highly safe fire suppression systems to install in occupied spaces.

Save infrastructure from any big damage by fire resulting in lower repair cost.

After operation, no residue is left behind making it safe for equipment, electronics, and machinery.

Compared to other clean agents is a slightly more economical and cost-effective option.

Comparatively friendly fire suppression system, not affecting stratospheric ozone layer.

Since, a small amount of FM-200™ is needed to suppress a fire, comparatively smaller or fewer cylinders are needed.

FM200 suppression system is recognized by worldwide by developed and developing nations
Is It safe to install FM 200 Fire Suppression System?
Yes. It is very safe to install. FM-200 systems can be safely deployed anywhere people are present and working. In fact, the active compound in FM-200 is so harmless or safe that it has been permitted for utilise as a propellant in inhalers to dispense asthma medicine.
How long does it take to install a fire suppression system?
Installation generally requires around 4 hours for a pneumatic system and up to 16 hours for electrical systems. Times differ based on the complication of the installation, parts, or components to be installed and type of system being installed.
Where can the FM 200 Suppression System be installed?
FM 200 Suppression System are most suitable in places where the use of water-based systems will damage sensitive set-ups, equipment, or goods like:
Turbine enclosures

Power generation stations

Communications centres

Data centres and computer suites

Offshore oil/gas exploration & production facilities

Document storage space facilities, museums, and other archives
What do we provide? - Fire Suppression System Installation
We provide our clients world-class fire services. Our Innovative 3 steps process for fire suppression system installation are:
Planning and Strategy –

Our highly experienced engineers build a system workflow with the finetune planning before starting the work.

Design –

Our system design engineers design systems for optimum performance according to the client's needs.

Installation –

Our skilled Installation engineers will install systems with best installation practices.

Testing and Commissioning –

We always test the system methodically in iterative stages according to Indian Fire Safety Regulations and Guidelines.
Our strategy for fire suppression system installation is rightly collaborative with our clients. The project development and implementation at Cease Fire & Electrical Services LLP is considered complete only when our esteemed client is thoroughly satisfied with the end result. We are happy to fully support and always refer you to new fire safety technologies which can deliver maximum effective results. 
What do we provide? - Fire Suppression System Installation
Cease Fire & Electrical Services LLP is one of the premier and leading names in Fire Suppression System installations. We're not just one of the most experienced but also one of the most trusted in the fire safety industry. Hence, you can feel confident you are in safe hands with Cease Fire & Electrical Services LLP. We are the professional people delivering excellent systems appreciated by all of our client's and moreover some of the factors that have consistently fuelled our growth in the national as well as international market are:
Over 30 years combined experience.

Expert installation tailor-made for you.

Highly skilled fire alarm engineers.

Extremely focused research & development.

Capability of dealing with all kinds of fire.

Guaranteed Excellent Customer Service.

Competitive pricing with Customized solutions.

Third party accreditation.

International Quality Standards.
We have more than 30 years of experience in our industry, and over this time we've established and developed ways of working that are most suitable for every sector. Our expertise is guaranteed to benefit you, and the quality of our work can't be rivalled.

Cease Fire & Electrical Services LLP Market Area
At Cease Fire & Electrical Services LLP, we provide Fire Suppression System Installations Services at these locations:
Andheri | Bandra | Bhayander | Borivali | CharniRd | Churchgate | Dadar | Dahisar | Prabhadevi | Goregaon | GrantRd | Jogeshwari | Kandivali | KharRd | LowerParel | Mahalakshmi | Mahim | Malad | MarineLines | MatungaRd | MiraRd | MumbaiCentral | Naigaon | NallaSopara | SantaCruz | VasaiRd | VileParle | Virar | RamMandir | Ambernath | Ambivili | Asangaon | Atgaon | Badlapur | Bhandup | Bhivpuri | Byculla | Chinchpokli | CurreyRoad | Diva | Dolavi | Dombivili | Ghatkopar | Kalwa | Kalyan | Kanjurmarg | Karjat | Kasara | Kelavi | Khadavli | Khardi | Khopoli | Kopar | Kurla | Lowjee | Masjid | Matunga | Mulund | Mumbai CST | Mumbra | Nahur | Neral | Palasdari | Parel | Sandurst Road | Shahad | Shelu | Sion | Thakurli | Thane | Titwala | Ulhasnagar | Vangani | Vasind | Vidhyavihar | Vikhroli | Vithalwadi | Airoli | Belapur CBD | Chembur | Chunabhatti | CottonGreen | DockyardRoad | Govandi | GTBNagar | Juinagar | Khandeshwar | KharRoad | Kharghar | Kings Circle | Mahim | Mankhurd | Mansarovar | MasjidBunder | MumbaiCST | Nerul | Panvel | Reay Road | SandhurstRoad | Sanpada | Santacruz | SeawoodDarave | Sewri | Tilaknagar | Vashi | WadalaRd | AntopHill | Ghansoli | Koparkhairne | Manasarovar | Rabale | Turbhe | Asalpha | SakiNaka | Marol | Chakala | Versova | Ahmednagar | Akola | Amravati | Aurangabad | Beed | Bhandara | Buldhana | Chandrapur | Dhule | Gadichiroli | Gondia | Hingoli | Jalgaon | Jalna | Kolhapur | Latur | Mumbai | Nagpur | Nanded | Nandurbar | Nashik | Osmanabad | Parbhani | Pune | Raigad | Ratnagiri | Sangli | Satara | Sindhudurg | Solapur | Wardha | Washim | Yavatmal and many more.
Note: Please note that the information on this document is for illustration purposes only as information may vary with individual products, their grade and applications industries or uses and therefore cannot be guaranteed as accurate. © Copyright 2022 © Cease Fire & Electrical Services LLP. All Rights Reserved (Terms of Use). Recreation of any materials from the site is strictly prohibited without permission. Cease Fire & Electrical Services LLP s' products are sold exclusively through Cease Fire & Electrical Services LLP s' website. Use Terms | Privacy. Please contact us to discuss precise product specifications and requirements and obtain advice on which products are required to suit your exact application needs
[email protected]